Jalaun district is a historical place located in the southwest of Uttar Pradesh, mainly famous for its historical and religious monuments. This place has historically seen many ups and downs, which has a history behind it. There was a very famous sage Jalwan, after whom this district was named Jalaun. The maternal uncle of 'Ala Udal' also lived in this district. Which is called "Mahil ki Nagari" Orai. The famous 'Mahil Ka Talab' is also located here. This is the district headquarters of the Jalaun. Kalpi is the largest and oldest town in this district. The oldest traditional ruler of the region was Yayati, who is mentioned in Puranas and Mahabharata as Samrat (Emperor) and a great conqueror, the birthplace of Ved Vyas. He had written a great book of Mahabharata. Surrounded by Yamuna, Betwa, Pahooj three beautiful rivers, Jalaun district is well connected by road and rail to the main cities of the state, Agra (300 km), Kanpur (105 km), Jhansi (106 km). The nearest airport is Kanpur 105 km away from the Jalaun district. National Highway No-25 connects the Jalaun district directly to Kanpur and Jhansi.
The main historical places of interest here are-
Rampura Fort, Rampura
Jagammanpur Fort, Jagammanpur
Lanka minaret, Kalpi
Chaurasi Gumbad, Kalpi
Bairagarh Sharda Mata Peeth, Ait
Konch ki Ramlila, Konch
Sala Ghat, Sala Village, and Shiv Mandir Jageshwar Dham
Panchnada Dham
Veda Vyas Temple, Kalpi
Surya Mandir, Kalpi
1. Rampura Fort, Rampura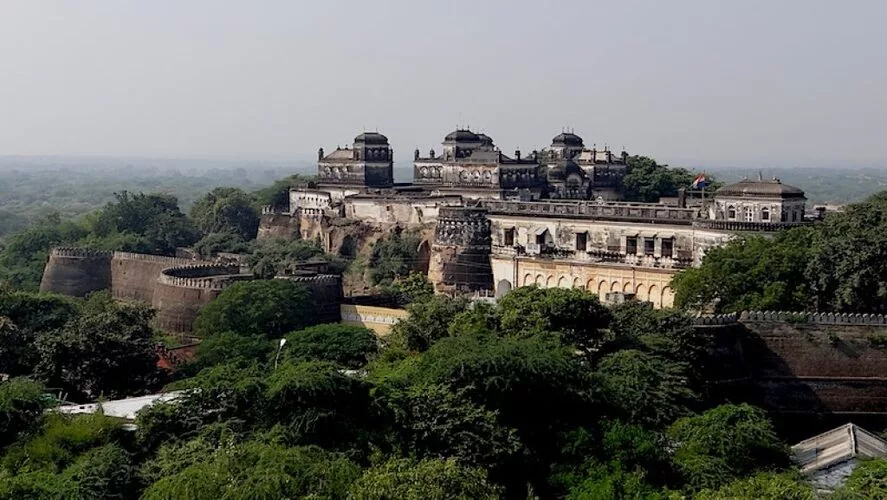 This fort is located in the Rampura block of the Jalaun district. Which is 55 km away from district headquarter Orai. It was built in the 15th century. Which has been built by the Kachhwah clan of Rajput kings. This fort is made of bricks and limestone. This fort, built on the banks of the Pahuj river, has separate rooms for women and men, which are 100 in total. This fort is surrounded by a moat due to its being built in a ravine. The rugged ravines look very beautiful from this fort. Due to this, it is very thrilling and adventurous for the tourists. Stables, garages, quarters, wells, and temples are built in this fort.
2. Jagammanpur Fort, Jagammanpur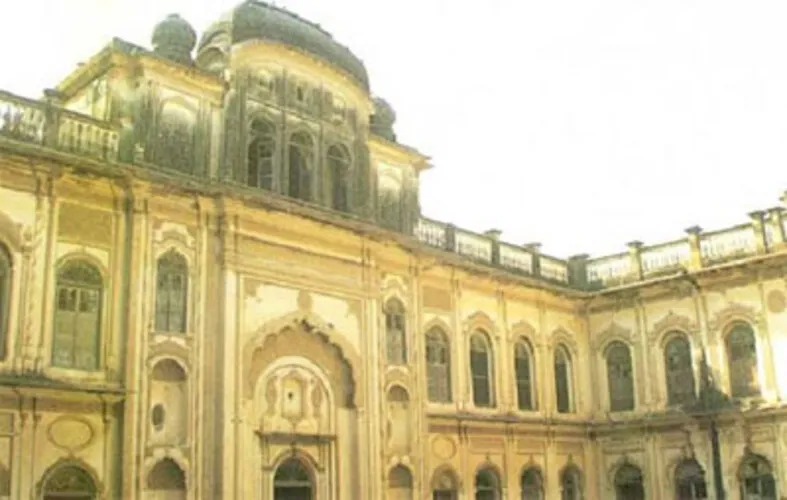 This fort is also located in Jagammanpur village in Rampura block, which is 25 km from Rampura village. This fort was built by Jagman Shah in 1593. It is said that while laying the foundation of the fort saint Tulsidas was present and who gift the king an 'Ek Mukhi Rudhraksha' and a 'Dakshinavarti Shankh' and a 'Lakshmi Narayan Vati'. They are still worshipped and kept in the temple. Every year a festival is organized by the king and the public also participates in this festival. This festival is held in October. A fair is organized in the village and people come from far and wide to see the fort and its festival.
3. Lanka minaret, Kalpi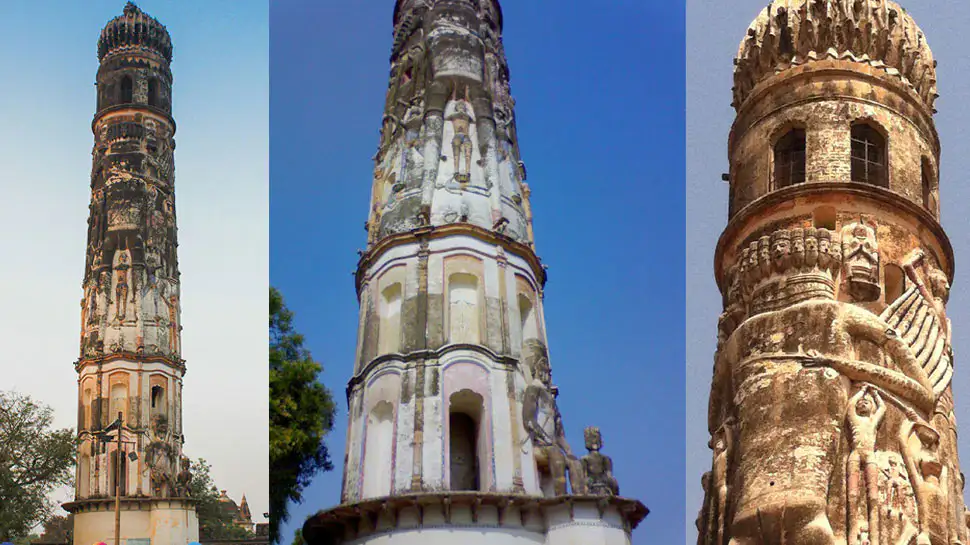 It is located in Kalpi town of Jalaun district. Which is the main city of Jalaun district. A Lanka minaret dedicated to Ravana. Inside this Ravana is depicted through pictures to the whole family. It was built in 1875 by Late Mathura Prasad. Mathura Prasad had built this Lanka in the memory of Ravana. This Lanka is a beautiful tower. Mathura Prasad, who built this Lanka, used to play the role of Ravana in Ramleela. This tower is about 210 meters high. It took 20 years to build this amazing structure. From doing the Ravan role in Ramleela, he got the inspiration to build this tower. To make which urad, oysters, lentils, cowries have been used. Huge statues of Ravana's brother Kumbhakarna and Meghnath are made at the Lanka Minar. The statue of Kubhkarna is 100 feet and the 65 feet statue of Meghnath is present here. Apart from this, Lord Shiva and Chitragupta have also been made here. A 180 feet tall Nag Devta is also located in the complex. Which is built on 95 feet Nagin Gate. A big fair is organized here on the day of Nag Panchami. Along with this, Dangal is also organized. To reach the top of the tower, one has to pass through seven rounds. These seven rounds are considered as seven rounds of husband and wife.
4. Chaurasi Gumbad, Kalpi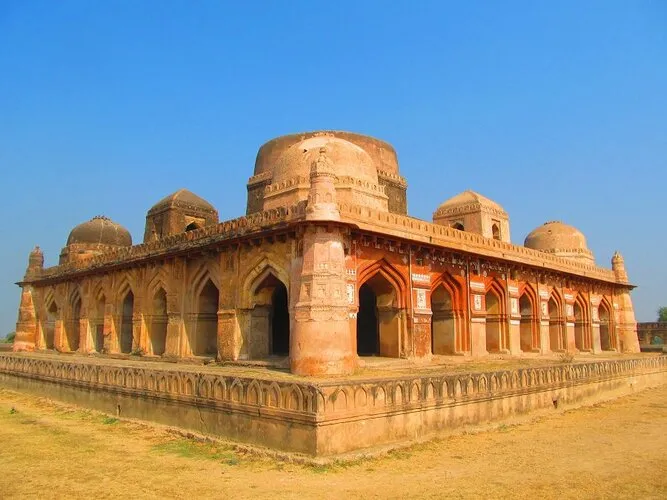 This is also located in Kalpi town. This building was constructed in the 15-16th century. It is also known as Lodi Shah's tomb. This ancient building has eighty-four doors. It has also been a Buddhist university in ancient times. The Chinese traveler Fahien has also mentioned this in a book written on his visit to India. It has eighty-four door arches. The entire building is divided into a square shape in the form of a chessboard. The building has a dome of 60 feet in height. In ancient times, Kalpi was known as Kalpriya Nagari. Then, the name of the city was abbreviated to Kalpi. Kalpanapriyagari is an ancient Indian city.
5. Bairagarh Sharda Mata Peeth, Ait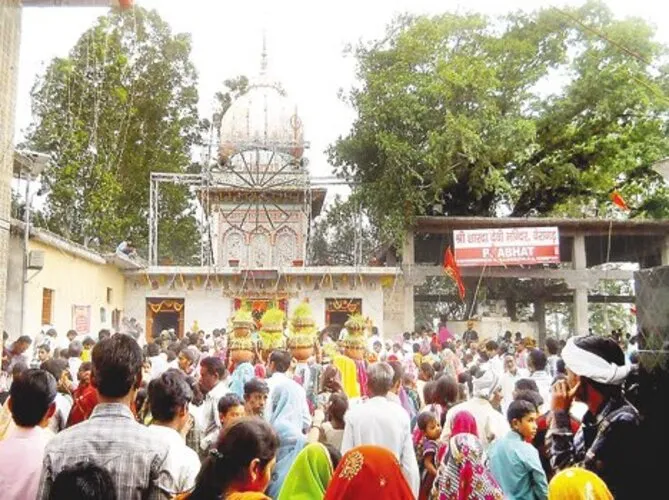 It is located in Bairagarh, near Ait Town of jalaun District. This is a very beautiful and famous temple. This temple is the period of Aalha Udal. In this temple, Aalha had taken sannyasa. Due to which it was named Bairagarh. Aalha's weapon called Sang is buried in this temple, which is very heavy. The temple of Mata Sharda is made of simple carvings. There is a pond behind this temple. It is believed that bathing in it cures skin diseases. It is said that Goddess Sharda changes form several times a day. Here Saraswati, the goddess of knowledge, is seated in the form of Mother Sharda. The Goddess Maya is made of octagonal white stone. According to legends, the Shaktipeeth of Maa Sharda was established in the eleventh century by Raja Todalmal of the Chandela period. There are only two Shaktipeeths of Mother Sharda in the whole country, in which one is in Bairagarh of Jalaun district and the other is in Maihar of Satna district of Madhya Pradesh.

6. Konch ki Ramlila, Konch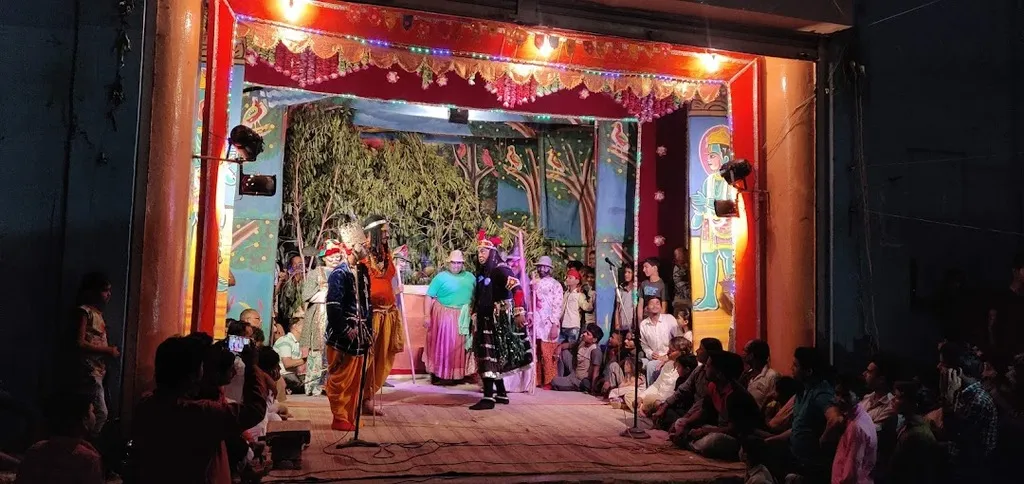 It is held in Konch. Konch is a small town in the Jalaun district, 30 km from Orai. The Ramlila of Konch is 164 years old. The discussions of Ramlila are heard from far away districts. This Ramlila is not staged on the stage but is performed in the field. Any war is brought alive in the field, not on the stage. The Ramlila here has also been included in the "Limca Book of World Records". This is the biggest Ramlila to be held in the ground after Ayodhya and Banaras. Due to this fame, Ramlila of Konch is considered to be the highest in Asia. Ram, Lakshmana, Bharata, Shatrughan can be acted only by children of the Brahmin caste, as long as Ramlila goes on. They have to be separated from the family under the protection of Ramlila Samiti under the promise of many dignities. Research has also been done on Ramlila of Koch. Which was done by Indrani Ramdas, niece of the Prime Minister of Tobago and Trinidad.
7. Sala Ghat, Sala Village, and Shiv Mandir Jageshwar Dham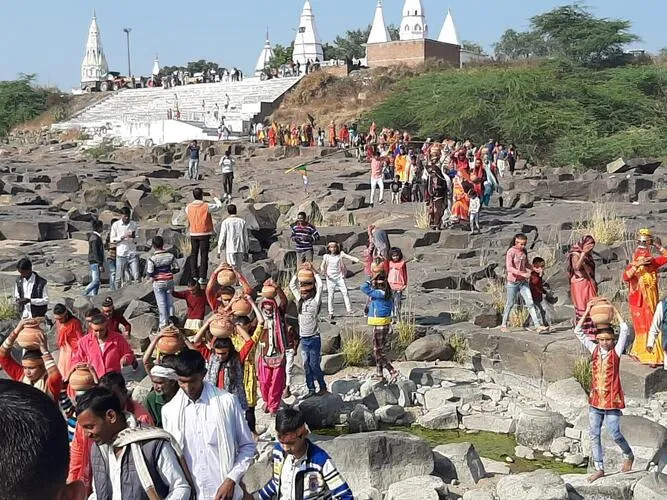 This ghat and temple are in Sala Village of Konch Block. This village is located 18 km from the Konch. The ancient Shiva temple, Jageshwar Mandir and Sala Ghat was built on the Betwa river between Ait and Kotra. This ghat whose sharp and shiny stones look very attractive. When the streams of the river collide with the stones, it is a sight to behold. The Dinkachal Parvat is situated near the Jageshwar temple. It is said that Hiranyakashipu threw his son Prahlad down from this mountain. The traces of which are still present today. Near Sala Ghat is Pathraula Ghat. This temple looks even more beautiful due to the Ghat and the Betwa river flowing nearby. A fair is held in Jageshwar Dham on Vivah Panchami. On that day the marriage of Lord Rama and Mother Sita takes place here. People are surprised to see Lord Shankar's and the great view in Jageshwar Dham built on the banks of the Betwa river. The Dargah of Mukarram Baba is built in the river near the temple. Here both Hindus and Muslims offer a chadar and ask for a vow.
8. Pachnada Dham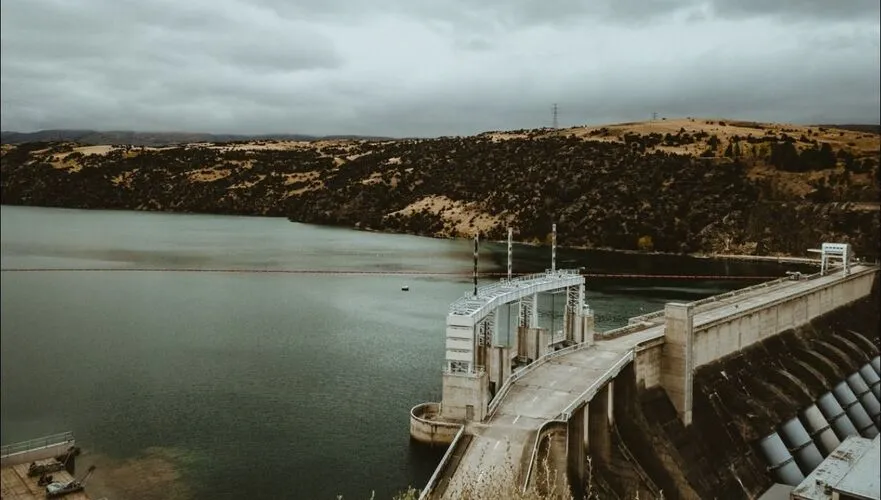 It is on the border of the Jalaun, Etawah, and Auraiya districts. Its distance from Orai is at a distance of 64 km. Due to the confluence of five rivers, it has been named Pachnada. It is the only place in the world, where five rivers Yamuna, Chambal, Kwari, Sindh, Pahuj rivers meet. This place is famous since the Mahabharata period. It is said that Lord Vishnu got Sudarshan Chakra by worshipping Mata Maheshwari at this place. The Pandavas had spent a lot of time here during the Mahabharata period, the evidence of which is still here. Lord Kaleshwar appeared and gave darshan to the Pandavas. There is an 800-year-old Mahakaleshwar temple, where a fair is held every year. It is also called the Taposthali of Baba Mukundavan. Where Tulsidas Ji spent a lot of time. It is the rarest site of mythological and religious importance. Pachnada is considered one of the few places in the country in terms of natural beauty. The historical fort of Bharehi is also situated near this place. From where the view of Pachnada looks very beautiful. This place is also a major breeding center for dolphins.
9. Veda Vyas Temple, Kalpi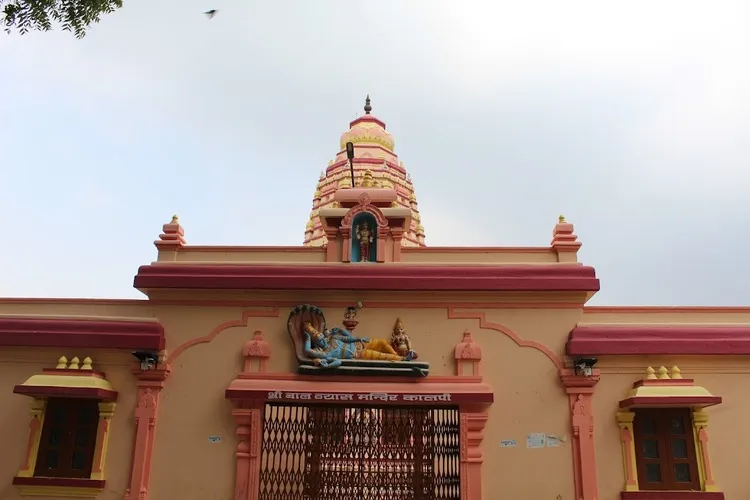 It is located near Kalpi city. This place is situated on a hill on the banks of the river Yamuna. Here is the birthplace of Lord Ved Vyasa. This temple is very ancient. It is said that the childhood of Lord Ved Vyas had been spent here. There is a Neem tree in this temple, whose specialty is that the trunk and branches of this tree are like the head of an elephant. The branches and trunk of this tree are never harmed or cut by people. This tree is considered very sacred. Along with the main temple, the tree is also worshipped. This neem tree is believed to be a representation of Lord Ganesha. Who helped Ved Vyas Ji in writing the Mahabharata. Another temple has been built near this temple related to the childhood of Ved Vyas Ji. Which is famous as Bal Vyas Mandir due to its relation to the child form of Ved Vyas Ji. Inside this temple, the forms related to the child form of Ved Vyas Ji have been depicted. There is also a museum related to Ved Vyas Ji.
10. Surya Mandir, Kalpi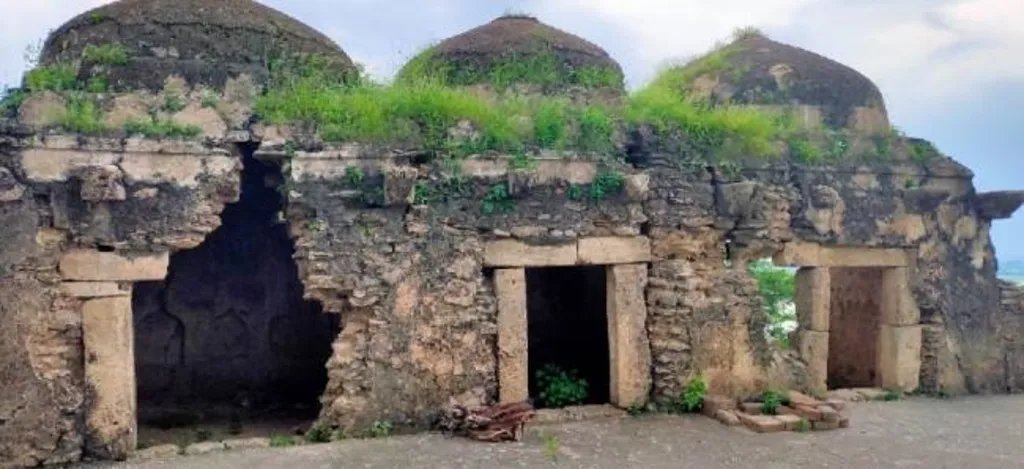 This temple is built on the banks of the river Yamuna in Madra Lalpur village of Kalpi. In the country, One Surya Mandir is built in Konark in Odisha, the other is in Multan in Pakistan and the third is in Kalpi. The structure of these hundreds of years old Surya Mandir is exactly similar to the Surya Mandir of Konark. It is believed that this temple was established by Samba, the grandson of Shri Krishna. There is also a Surya Kund near the temple. The world-famous 'Surya Siddhanta' was propounded here by the great astrologer Barahmihira. It is believed that leprosy patients are cured by worshipping the Sun here on Sunday. In "Kanyakubja Mahatmya", a book based on the history of Kannauj, it is written that Samba had become leprosy due to the curse of sage Durvasha. On the advice of the deities, Samba got freedom from the curse by bathing in Suryakund situated in Makaranj city of Kannauj state. After this he built the temple of Kalpriya Nath Suryadev. Due to this, it was named Kalpriya and later Kalpi. This temple is built in Nagara style. This Surya Mandir of Kalpi is made of lime and red stone.